Veggies / Veggies
Recipe:
Artichokes with Tarragon Drizzle
Servings
8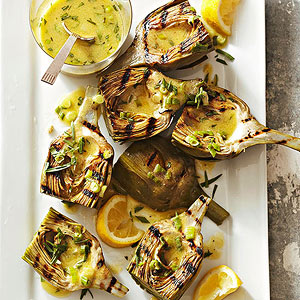 Prep Time:
Cook Time:
Total Time:
Ingredients:
4
large whole artichokes or 12 to 15 baby artichokes
2/3
cup
extra-virgin
olive oil
1/3
cup
white wine
vinegar
1/3
thinly sliced
green onion
2
tablespoons
snipped fresh
tarragon
or 2 teaspoons dried tarragon, crushed
2
tablespoons
dijon-style
mustard
sea
salt
or salt
ground
black pepper
extra-virgin
olive oil
2
lemons
, each cut into 8 to 10 wedges
snipped fresh
tarragon
(optional)
Directions:
Yield: 8 servings
Wash large artichokes; trim stems, if desired, and remove loose outer leaves. Snip off the sharp leaf tips. If using baby artichokes, remove outer leaves to reach pale green or yellow leaves on bottom half. Cut darker green portion of leaves off top half of artichoke; discard. Cut off stem and trim any remaining green from base of baby artichokes.

In a large pot bring a large amount of lightly salted water to boiling; add artichokes. Return to boiling; reduce heat. Simmer, covered, for 20 to 30 minutes for large artichokes or 10 minutes for baby artichokes or until a leaf pulls out easily.

Place artichokes in a large bowl of ice water to cool completely. Drain artichokes upside down on paper towels. Cut artichokes in half from top through stem; use a spoon to scoop out the fibrous cores, leaving the hearts and leaves intact.

For tarragon drizzle, in a screw-top jar combine the 2/3 cup oil, vinegar, green onions, 2 tablespoons snipped tarragon, and the mustard. Cover and shake well. Season with salt and pepper.

Brush artichoke halves with additional olive oil. For a charcoal grill, place artichokes, cut sides down, on the rack of an uncovered grill directly over medium coals. Grill for 7 minutes; turn artichokes and grill for 5 to 7 minutes. (For a gas grill, preheat grill. Reduce heat to medium. Place artichokes on grill rack over heat. Cover and grill as above.)

On a serving platter place grilled artichokes cut sides up. Shake tarragon drizzle; pour some over artichokes. If desired, sprinkle with snipped tarragon. Serve with lemon wedges. Pass the remaining tarragon drizzle.

Source: bhg.com

Cook'n is a next generation recipe app that makes it fun and easy to share favorite recipes.
Click here to get Cook'n (it's free!)

Cook'n is a next generation recipe app that makes it fun and easy to share favorite recipes.
Click here to get Cook'n (it's free!)



� DVO